Rewards Network is the largest promotional program for the restaurant industry, owning and managing over
15 different dining loyalty programs
for the airline, hotel and retail industries. With all of these programs operating as an extension of these national loyalty brands, these dining programs have grown to over
20 million members nationwide
.
As the Design Lead for all national dining programs on the consumer side of the business, I led creative strategy, design, ..... The results of the efforts across all of these program engagements generated over
500k in individual bonuses awarded
to members, and over
$144 million in bonus miles/points awarded in 2022
.

Below are a few of the marketing initiatives that I was heavily involved in including oversight, concept ideation, storyboarding, as well as a good deal of hands on design.
PARTNER BRANDED WEBSITES AND EMAIL COMMUNICATIONS
While Rewards Network is generally considered a B2B focused brand, it is the consumer-focused page that helps dining enthusiasts find their dining program of choice based on their preferred rewards. Our overarching goal was to inform, educate, and entice prospects to learn more about the many dining programs Rewards Network has to offer, and for them to choose which one is right for them based on their rewards of choice. Once they have chosen their program, they would become members of that program and continue to visit that dedicated site while receiving dedicated marketing emails.
ENGAGEMENT EMAIL STREAMS
One of the larger challenges of working with over 15 partners is making sure they are treated equally in marketing engagement initiatives. In order to achieve this balance, myself and the team needed to apply the foresight to develop templates that could be simple enough to be easily modified across the board, yet still leading with enticing visuals and messaging to increase user engagement.
The below examples were a part of a rapid fire conceptual process where weekly objectives were shared with the team followed by fully fleshed out design and copy solutions within a five day span. This was an excellent way to quickly get emails to market across multiple partners to test what users engaged with most and ultimately where our initiatives should be focused for the highest success rate.
PROGRAM EXPLANATION VIDEOS
The story of how Rewards Network helps restaurants, while simple in its promise, can get complex when you get into the details. We were tasked with helping to tell that story through a series of explainer videos that highlighted how the company works with restaurants and diners as well as how the capital funding process comes together. With all of these productions, we started with discovery interviews and an initial script while collaborating with key stakeholders to present storyboards, voiceover and motion graphic reviews. And with all of these videos, a succinct message and clear story was paramount to their success.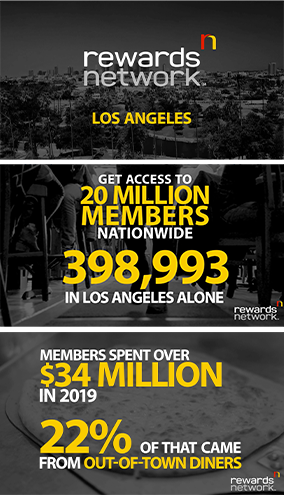 DIRECT MAIL / PRINT COLLATERAL
With 660,000 restaurants in the United States, our teams focused on efforts with better ROI to reach prospects at scale. With limited space (and often, time), my team and I created a series of impactful direct mails targeted at restaurant owners and operators nationwide. As with any of the creative, a consistent positioning message of partnering with the world's most powerful loyalty programs to bring full-price guests and better funding options to local restaurants was prominent, without being visually overpowering.